Football Spring Camp Registration
Please click on the link below to view further information regarding the Football Spring Camp.
https://goo.gl/forms/e0CcqGimVLJqgvIN2
2018 Ardrossan Bison Football Award Winners
Academic Awards: Aiden Bain
Most Improved Player Award: Colton Strayer
Rookie of the Year Award: Avery Lacusta
Unsung Hero Award: Jacob Bannon
Heart Award: Jonathan Ewing
Most Valuable Player Special Teams: Laine Santos
Most Valuable Back Offense: Even McGeachy
Most Valuable Back Defense: Kody Prusak
The Terry Award: Darian Toma
Most Valuable Defensive Lineman Award: Connor Carlson
Most Valuable Offensive Lineman Award: Josiah DeBoer
Most Valuable Player Defense Award: Dawson Byblow
Most Valuable Player Offense Award: Keon Nurse
Most Valuable Player Award: Hayle Lueders
Bison Football Executive
Congratulations and thank you to our

Bison AGM
President: Brian Carlson
Vice President: Melanie Doyle
Secretary: Nicole Foss
Treasurer: Janice Brownlee
Team Registrar: Dayna McGeachy
Fundraising: Sherry Byblow
Directors at Large: Raina Wadmann, Shelly Harvey, Lorraine Lueders, Samantha Koop
Head Trainer: Sue Carlson
Equipment Manager: Clint Byblow
Website: Willy Hankinson
Head Coach: Paul Schwartz
Bison Football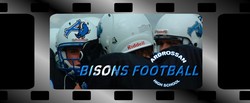 Our team mottos is...
"RESPECT EVERYONE...FEAR NO ONE"
A Message from the Coach
"I am looking forward to the upcoming season, knowing we have a solid group of returning players that are ready to hit the field. We are very excited about the potential that lies within this team and it will be our job, as a coaching staff, to bring that potential to the forefront. We continue to build our program with updated equipment and overall field and indoor facility improvements to allow our players to continue to grow as athletes. The upcoming season is going to be FUN! I invite everyone to come out and watch this year's team and show your continued support for the black, blue and white."
Earn the Right to Win!
It is not a right but a PRIVILEGE and an HONOUR to be a Bison and to wear the BLUE, BLACK, and WHITE team colours. Each player must be a team player and possess the "WE" attitude instead of the "ME" attitude. Individual performance is secondary to TEAM PERFORMANCE! Our team is based on PRIDE and HARD WORK. Intensity and excitement are part of every practice and game. What we put into our practices is directly proportional to what we bring home from our games. We expect all players and coaches to BE THE BEST they can be on every play! Bison players will be CONFIDENT in themselves and their efforts and TRUST each other and the football program. We will play one game at a time and prepare for one team at a time. Each player will possess a mature and POSITIVE ATTITUDE and share the philosophy of WORKING TOGETHER.
Five Qualities of a Champion
FOCUS "Focus on the purpose and expected outcome of each and every play".
PLAY HARD "Be as aggressive as the rules allow"
PLAY SMART "Be well prepared and execute according to the plan".
PLAY AS A TEAM "Work with and for each other".
HATE TO LOSE!  "It's not enough to want to win - you gotta hate to lose"!
Congratulations to the BISONS Football Team
A HUGE Congratulations to the Bisons football team who are the Gilfillian Division Champions after defeating the Sturgeon Spirits 31-2 in an exciting game at Commonwealth Stadium.  Next up is the Provincial quarter finals on Saturday November 10th at noon at Emerald Hills vs. The Stettler Wildcats.  Go BISONS!!
Steps to the Championship
VISION  "Dream in technicolour, set your goal on the championship win - and nothing less".
LEARN "Study the rules and techniques of play and be open to coaching advice".
PLAN "Know where you are going and make sure you have the skills and desire to get there".
EFFORT "Hard work is rewarded by success".
BELIEVE "Believe in yourself, your team and your dream"
PASSION "Play for the love of the sport of football".
Bison Football Schedule
Want to know when the next game is? Click on this link to see the full schedule.