Guide to Reporting Student Achievement 2018-19
Weekly Newsletter
The Parent Weekly Bison Tracks is now online.
Volleyball Spring Camp 2019 - Grade 5 & 6 students
To register for the 2019 Volleyball Spring Camp please fill out the Google Form:
The camp will run from May 2nd to May 30th. 
Click Here to fill out the form
Bison Summer 2018 Sports Camps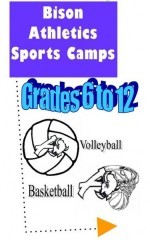 Stay tuned for more info on our Bison Athletic Summer Camps.
Click on the specific camp below to view details:-
Basketball Camp 2018- Registration Deadline is June 20, 2018
Volleyball Camp 2018 - Registration Deadline is June 20, 2018
Bus Status
8

On Time

9

On Time

33

On Time

41

On Time

42

On Time

43

On Time

44

On Time

51

On Time

52

On Time

53

On Time

55

On Time

58

On Time

59

On Time

60

On Time

65

On Time

74

On Time

81

On Time

99

On Time

102

On Time

103

On Time

104

On Time

105

On Time

110

On Time

120

On Time

145

On Time
On Time

Delayed

Cancelled