Sports Camps
Bison Summer 2020 Sports Camps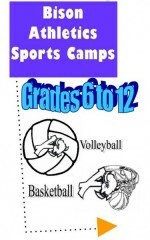 We are very sad to announce that the 2020 Ardrossan Volleyball Camp that was planned for August 17th-20th and the Basketball Camp for August 24th-27th will not be able to run this summer due to ongoing concerns with COVID 19. 
We were holding out hope that beginning in June we could begin collecting registrations for the camps however there continue to be restrictions on gatherings. This is likely to slowly be removed but it is very difficult to see how we could accommodate a large number of students for the camps.  Many other camps are not running due to safety concerns as well. If there are any updates in August then the site will be updated with new information.  
Any students who already paid fees for the camp will have those fees returned to them.  We are very sorry and long forward to seeing you in the Fall. It is unknown what youth sports will look like at the time but we hope that we are once again able to provide you with teams.