Sports Camps
Bison Summer 2021 Sports Camps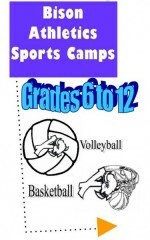 We are very happy to announce that we will be running our annual Volleyball Summer camp.  The Volleyball camp will begin on August 23rd and run until August 26th. Please click the link to register for the camp. A fee of $100 will be due at check-in on the first day of the camp.
Students need to either be attending Ardrossan Jr. Sr. High School or planning on attending it for Jr. High or High School.
In order to accommodate as many students as possible we have decided to run the camp in an AM group and a PM group based on grade.  This will allow us to adhere to any restrictions for gathering in place at that time.
Grade 6 to 9 students will be able to attend the AM camp - 9 am till Noon.
Grade 10 to 12 students will be able to attend the PM camp - 12:30 to 3:30.  
(Grade student will be entering for the 2021/2022 school year)
We are hopeful that we can accept all registrations but in the event that we are restricted on the number of people we can have in the building for camp the order that the athletes have registered will be used to determine which athletes are able to attend the camp.