Rise to the Challenge!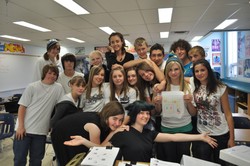 The Honours Program at the junior high level is designed for students who do well in their courses and who enjoy a challenging learning and academic environment. Students who apply for the Honours Program should have an academic average of 80% or higher in English Language Arts, Social Studies, Science and Math and have an excellent work ethic in class. Students in the program should maintain their core average of 80% or higher in order to be readmitted into the program the following year.
Honours students are grouped together for their core classes. Students follow the Alberta Education Program of Studies and formative and summative assessments are based on Alberta Education learning outcomes. Topics may be covered more indepthly and enrichment activities may be included. We do not add to the workload of the honours student.
Students who are thinking of applying for the Honours program for grade 8 and/or grade 9 should have their core average at 80% or higher at the time of application or registration nominally May 15th. We have one honours class at each level.
At the senior high level, students with 80% or higher, at time of registration, can choose honours courses by individual core subjects.