Back to all posts
Posted on:
Zone 3 Drama Festival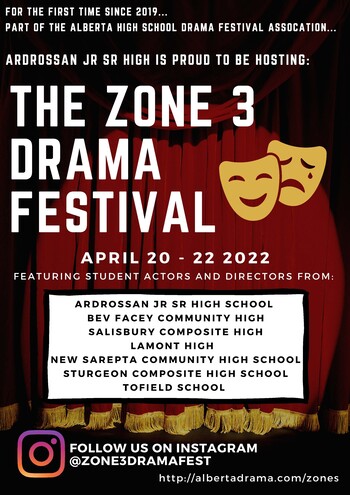 For the first time since 2019, as part of the Alberta High School Drama Festival Association, AJS is proud to present the Zone 3 Drama Festival on April 20-22, 2022. Follow @zone3dramafest on Instagram for updates. 
TICKETS CAN BE PURCHASED IN THEATRE LOBBY 15 MINUTES PRIOR TO START OF PERFORMANCE. 
$5 PER PERFORMANCE OR $20 FOR A FESTIVAL PASS.
Wednesday April 20, 2022
12.30 - 1:35 p.m.             Lamont Among Friends (65min)
1:55 - 2:20 p.m.              Tofield Oprah Made me do it (25min)
2:35 - 3:10 p.m.              Bev Facey About Her (30min)
6:30 – 7:05 p.m.             Sturgeon Deliver Us Not (35min)
7:20 - 7:40 p.m..             Tofield Men Who Worry too Much…(20min)
8.00 - 8:20 p.m.              New Sarepta Ringtone (20 min)
8:35 - 9:00 p.m.              Ardrossan DC (25 min)
Thursday April 21, 2022
12.30 - 12:50 p.m.         New Sarepta From the Mouths of Babes (20min )
1:05 - 1:30 p.m.             Ardrossan A Coupla Bimbos (30 min)
1:50 - 2:15 p.m.            Lamont Cry of Crows (25 min)
2:30 - 3:00  p.m.           Ardrossan Criss Cross (25 min)
6:30 - 6:50 p.m.            Sturgeon Afterwards (20min)
7:05 - 7:35 p.m.            Lamont Boy Meets girl (30 min)
7:50 - 8:20 p.m.            Sturgeon Who Will Steal my Heart (30min)
Friday April 22, 2022
12.30 - 1:05 p.m.           Salisbury The Trial of Goldilocks (35min)
1:20 - 1:40 p.m.            Tofield To Hide a Dead Body (30 min)
2:00 - 2:50 p.m.            Salisbury Good Guys (50 min)